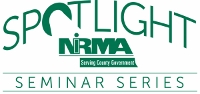 Plans are coming together for the next installment of NIRMA's regional seminar series, which this year will focus on public sector labor laws and employment practices.
     Scheduled in April, the seminars will feature Pamela Bourne and Kelly Ekeler, labor law attorneys with Woods & Aitken LLP.  Pam and Kelly will present six hours of practical guidance as they review key labor laws and discuss how you can avoid making costly mistakes.
     Printed below is the tentative agenda and the dates and locations for the five seminars.  You will see many of the topics are those that present the most common concerns for NIRMA member counties and agencies.  Pam and Kelly also plan to share a look at what employers might foresee coming out of Washington, D.C. with the new administration.
     Of course, there will be ample time throughout the day to have your questions answered.
     NIRMA is pleased to continue its long-standing policy of not charging member counties and agencies a registration fee for their officials and supervisory personnel who attend one of these seminars.  A complimentary lunch also will be provided.
     Employment-related claims and litigation continue to be one of the most costly hazards employers face.  And the risks can be further compounded by not learning about frequent updates and changes being made to employment laws and regulations.  That is why NIRMA places so much emphasis on this subject.
Tentative Agenda
8:30 a.m.    What's at Stake?
What's at stake when you're involved in an employment-related claim?  Plenty, including potential personal liability, monetary damages, media scrutiny, damaged reputation.  Learn about some of the types and costs of employment-related claims that have involved NIRMA members.
9:00 a.m.    Managing Confusing Leave Laws
Discuss the interplay between workers' compensation claims, the Family and Medical Leave Act, Americans with Disabilities Act and others, and understand the benefit-related implications.
10:00 a.m.    Break
10:15 a.m.    Labor and Employment Law Update and Priorities for the Trump Administration
Learn about the latest significant labor and employment law developments and changes affecting public employers and find out what may lie ahead with the new federal administration in office.
11:00 a.m.     Wage and Hour Compliance: Avoiding Lawsuits and Liability
Discover the most common errors counties and agencies make in classifying employees, calculating work hours and computing overtime.
12:00 noon   Lunch
1:00 p.m.    Managing the Poor Performer
Review the key concepts involved in managing employee performance and the critical legal considerations when evaluating performance, and learn practical tips for conducting performance coaching.
2:00 p.m.   Employment Law Jeopardy
Test your knowledge during a quick round of Employment Law Jeopardy, complete with the classic Jeopardy music but minus Alex Trebek.
2:45 p.m.    Break
3:00 p.m.    3D Strategies for Managing Employees: Discipline, Discharge, Documentation
Learn how to avoid employment claims through the documentation of performance deficiencies, taking corrective action and disciplinary steps and, when required, communicating termination of employment.
4:00 p.m.   Questions and Closing Remarks
Receive clear answers to any employment-related questions you may have.
Dates and Locations
April 6    Lincoln, Champions Club
April 12  Gering, Civic Center
April 13  Ogallala, Haythorn Ranch
April 14  Kearney, Holiday Inn
April 20  Norfolk, Divots Conference Center